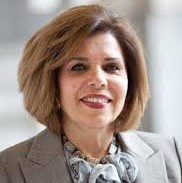 Ambassador Moushira Khattab
Egypt's Minister for Family and Population; Former Egyptian Ambassador to South Africa and Italy; Egypt's nominee to head UNESCO in 2017
Ambassador Khattab coordinated national efforts to combat gender-based violence--including female genital mutilation--and child marriage. She spearheaded the development and inauguration of 1,167 girl-friendly schools which provide quality learning to thousands of girls in the poorest quintile of Egyptian society. Because of the remarkable results of her amazing leadership, she has been awarded The Order of Good Hope from the President of South Africa, The Knight of the Grand Cross, and Decoration of "Commendatore" of the Order of Merit by the President of the Italian Republic.